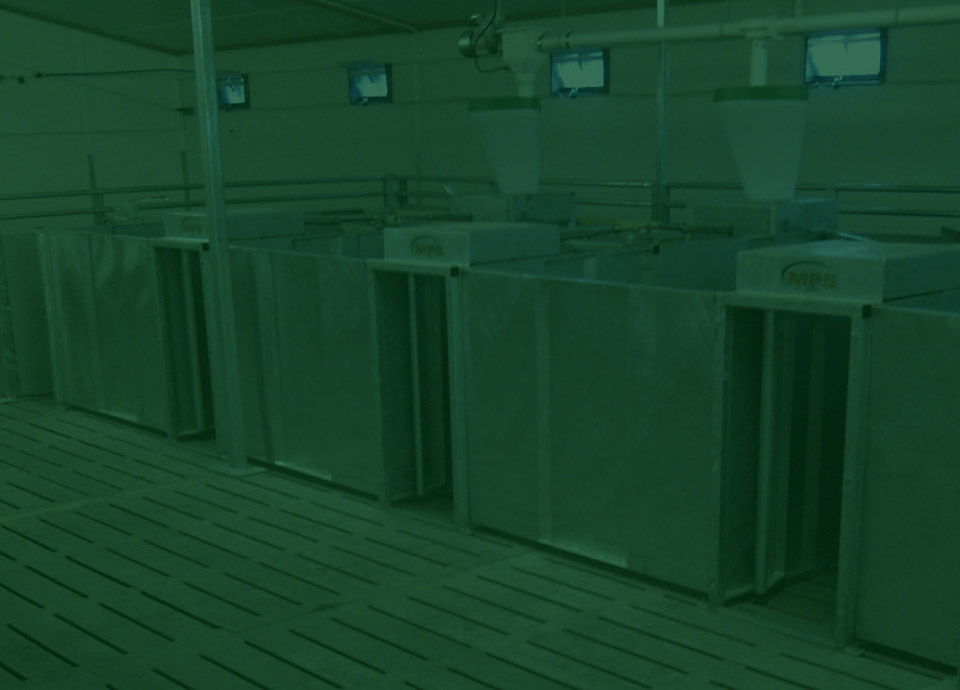 Individually Feeding Indoor Sows
Accurately & Stress Free
MoniPigTM PC System
This Windows-based software package gives complete individual control over the feeding of all animals on the system
The system offers the following parameters
Management capacity of up to 10000 sows and control of up to 64 feeding stations
Feeding curve to match each individual sow linked to gestation calendar
Automatic sow selection program
Distribution of up to 3 different feed types
"Boar Visit" function with detailed screening and printouts available
Detailed feeding and visit information to include daily underfed list
Alphanumeric farm code
Printout and list options available with different parameters
Opportunity to use the computer with different management and administration packages
Automatic data storage even with interruption of power supply
Storage of historical feeding data
Remote access and control for senior staff
Calibration
The system is very easily calibrated without the need for any mechanical adjustments. The amount of feed is weighed and this figure is entered into the computer which automatically corrects the next time feed is dispensed.
System Benefits
Welfare compliant
Accurate Individual Feeding
Lower feed costs
More live pigs born
Lower replacement costs
Loss of aggression
Flexible layout
Low long term maintenance costs
The Feeding Station
Robustly constructed in heavy gauge steel, folded where appropriate for added strength
Combination of galvanised and stainless steel for longer life
Simple sow-operated mechanism giving the animal full control of feeding time in a secure environment
System is able to feed pellets or meal and water accurately
Capable of feeding up to 50-55 sows per station
The Ear Tag
Uses lightweight Tiris technology
Does not contain a battery
Totally waterproof
Easily recovered and re-usable
Spray Marker
Automatic marking of animals using set programmable parameters
Multiple colour options available
Boar Visit Unit
Assists in management identification of sows showing signs of heat
May be linked to automatic spray marking for ease of detecting sows
Selection/Separation
Easily divert sows to a separate pen for routine tasks
Use set programmable parameters to assist management
Management Package
We realise the importance of management in making the system work after delivery.
A written management package is backed up by on-site advisory visits which will help you get the best out of your electronic sow feeders. The practical on-farm training given by our team after installation gives you the confidence you need right from the start.
Using the latest internet access and software packages we are able to assist and give guidance anywhere in the world.
Planning and Design Service
The success of each system starts with the design and layout of the building. Each farm has an individual requirement which will be met by our experienced design team.
Our experience of working with farms from 100 sows to 10000 sows allows us to share our broad knowledge with you to develop the perfect system for your farm. Whether it be a static or dynamic group system you can be certain we have the answer to your needs.
Introducing our New Gilt Training Feeder
A fully functional 3/4 sized feeder for training maiden gilts
Have your gilts trained early for an easy integration into the main feeding herd
Feeding can be fully electronic or ad-lib
Lockable rear gates and centre gate for easy training
Rollers on centre and exit gates for ease of use
Can be made left or right handed to suit requirements
Main body is a solid one piece construction – ROBUST